Surgery for rider after charity cycle accident in America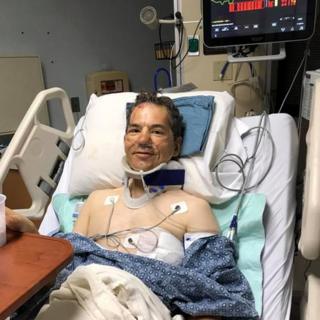 A man who was cycling 3,000 miles across America for charity is having surgery after he was hit by a car.
Alan Corsie, 55, who is from Aberdeen and now lives in Kinross, had to cut short his effort less than 500 miles from the end after the Florida crash.
He suffered two broken ankles and a collapsed lung in the accident, and was being operated on in Tallahassee Hospital on Wednesday.
He has still raised thousands of pounds for Alzheimer Scotland.
In a social media post, the father-of-three recalled: "The cycle is over. I got hit by a car from behind, and didn't know anything about it until waking up in ICU.
"Both ankles broken and a collapsed lung. Give me my sore bum and knee anytime now."
Mr Corsie told the BBC Scotland news website from the hospital: "About to get operations on both ankles."