Plans for £10m mountain bike park at Durris Forest unveiled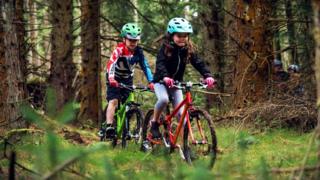 Plans to build a "world-class" £10m mountain bike park in Aberdeenshire have been unveiled.
The project, at Durris Forest, is being developed by the North East Trail Centre Organisation (Netco).
The site, between Stonehaven and Banchory, was selected by the charity following a year-long feasibility study which looked at four potential sites.
The plan is for multiple bike runs, nature trails, and dry slope skiing and snowboarding facilities.
It is thought it could create dozens of jobs.
Netco hopes to raise funds through a mixture of public and private sources.
'Excellent venue'
Netco chairman Martin Byers said: "It's the perfect time to launch our vision of a multi-adventure activity mountain bike park, which we firmly believe is greatly needed in Aberdeenshire.
"Our plans represent an opportunity to inspire more people to discover outdoor sports in a natural environment, bolster Scotland's current mountain biking facilities strategy, create jobs and help bring sustained growth to our local economy."
He added: "Durris is an excellent venue due in part to its convenient proximity to Aberdeen and surrounding towns.
"Incorporating snow sports enhances the appeal of the development for everyone and opens up market opportunities."
Belinda Miller, head of economic development at Aberdeenshire Council, said: "This is an exciting and innovative proposal from Netco and one that has the potential to put this part of Scotland on the map for family-friendly adventure sports facilities."
Public consultations with the local community will take place early next year, ahead of a formal planning application to Aberdeenshire Council.