Palestinian campaign group's complaints about Police Scotland upheld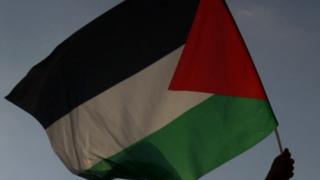 Police officers may have infringed the human rights of members of a campaign group in Aberdeen, a complaints watchdog has said.
The Police Investigations and Review Commissioner (Pirc) upheld three out of six complaints from the Scottish Palestine Solidarity Campaign (SPSC).
One was about an officer attending an SPSC meeting. Another involved members not being allowed into a court hearing.
Police Scotland said it was in the process of responding to the Pirc.
SPSC welcomed the conclusions.
The report said members of the public reported concerns about the organisation's activities, which prompted some form of action from Police Scotland.
'Unannounced' visit
In April last year, the group organised a meeting in a local cinema which was advertised on a social media page. This meeting was visited by a sergeant.
The complaint was that the "unannounced" visit to the meeting of activists was a "gross attempt to interfere with our right to protest".
The police said they had attended the meeting in order to provide the group with advice or assistance.
The response said the sergeant stated that he was met with a "relatively negative attitude" and left.
Police Scotland was told it should reconsider the complaint.
The second of the three upheld complaints was in relation to officers instructing an activist not to attend a protest.
'Further response'
The third case related to officers who stopped members of the SPSC from attending a court hearing, but granted entry to a group with opposing political views.
The commissioner said Police Scotland should consider whether gathering information on the group was compatible with their human rights.
Police Scotland said professional standards officers from another part of the country were investigating how it should reconsider the complaints.
Ch Supt Alan Speirs, head of professional standards at Police Scotland, said: "Police Scotland is in the course of responding to the Pirc over this issue, and will do so within their timescale.
"It would therefore be inappropriate for us to comment at this time. However, we can confirm that PSD officers from a different part of the country are undertaking the reconsideration direction."
Sofiah MacLeod, of SPSC, said: "We welcome the Pirc conclusions and await a further response from Police Scotland."
The other three complaints were said to have been handled to a reasonable standard.