Art expert resumes Italian Chapel restoration work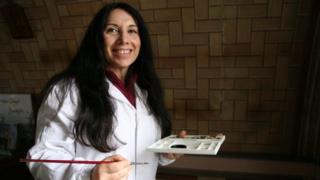 An art restoration expert has returned to Orkney to carry out work on wartime frescos adorning the walls of the Italian Chapel.
Antonella Papa, from Rome, is a regular visitor to the islands who was moved by the story behind the chapel's creation.
She began repair work on the interior during a month-long visit in 2015.
Now she hopes to continue the "never-ending" job of preserving the artwork at one of the islands' most popular visitor attractions.
Ms Papa, who has worked in the Sistine Chapel and Vatican Museum during a 30-year career, and is doing the work in Orkney on a voluntary basis, said it was key to make sure the paintings stayed true to their original style.
She said: "There was a lot of damage - scratches, wear and tear - caused by water coming in and, of course, due to many visitors.
"I have been repairing surfaces along the walls. At the moment I am working beside the altar and next to the gate. It's kind of maintenance that I'm doing now."
The chapel, whose frescos were painted by Italian prisoner-of-war Domenico Chiocchetti, was built by fellow Italian PoWs during World War Two.
They used scrap metal and leftover concrete to create a unique place of worship.
Two Nissen huts were transformed into a tiny basilica-style space filled with images of angels and the Virgin Mary under the title Regina Pacis - Queen of Peace.
Ms Papa is working at the chapel with local volunteers, including artist Morag Ewing who is going to carry on some of the restoration work in the future, when needed.
Ms Papa added: "When you restore something, of course you must be very respectful of the original painting.
"So you need to know what materials have been used and I'm using the same materials they used. And, of course, without repainting over the original - only trying to fix the damaged part.
"So my work must be invisible, [leaving it] exactly like the original painting."