Aberdeen synagogue saved from closure after flood damage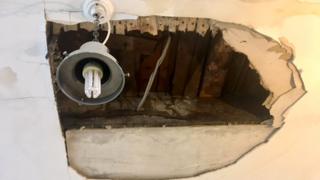 The UK's most northerly synagogue has been saved from closure after receiving donations from across the world to pay for flood damage repairs.
The building, in Aberdeen's Dee Street, shut in August because of the flooding caused by a faulty washing machine.
Since then the Jewish community has raised more than £10,000.
Repairs are due to get under way on Monday, with the synagogue expected to re-open early in 2018.
Since the damage, services have been held in a member of the community's front room, with chairs provided by the city's mosque.
Mark Taylor, honorary president of Aberdeen Synagogue and Jewish Community Centre, told BBC Scotland: "We now have reached our £10,000 target.
"We will get it fixed and we will continue to have a Jewish community in Aberdeen."