Plans for £68m Rubislaw Quarry development in Aberdeen revealed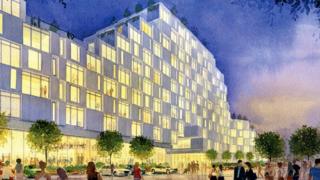 Images have been released of a planned £68m development at Aberdeen's famous Rubislaw Quarry.
Millions of tonnes of granite were excavated from the quarry, which closed in 1971 and is now filled with water.
Canadian developer Carttera wants to build 300 flats - looking like blocks of granite - as well as a gym and bistro on the edge of the site.
The plans are expected to be submitted to Aberdeen City Council within the next few weeks.
Jim Tadeson of Carttera told BBC Scotland the vision was for 300 rented flats, and that the bistro would highlight the heritage of the granite quarry.
There are already plans for a heritage centre at the other side of the quarry.
Hugh Black, who is behind the heritage centre proposals, declined to comment on the Carttera plans.