Date set for final voyage of last Aberdeen-built ship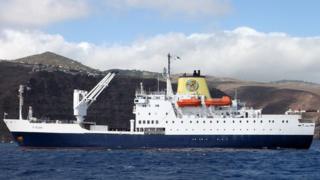 A date has been set for the final voyage of the last ship to be built in Aberdeen.
The RMS St Helena is being retired from service as it will not be needed due to the long-awaited opening of an airport on the remote South Atlantic island it was built to serve.
The final official voyage serving the island of St Helena will be next February.
RMS St Helena is being offered for sale so could operate elsewhere.
The vessel - built at the Hall Russell yard in 1989 - can carry 3,000 tonnes of cargo and more than 150 passengers.
Situated in the middle of the South Atlantic, St Helena is 1,200 miles from the coast of West Africa.
It is just 10 miles (16km) long and six miles (10km) wide.