Cruise passenger workshop ahead of Aberdeen harbour expansion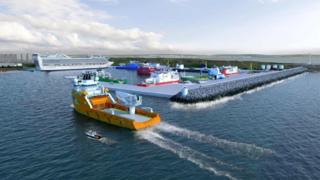 A workshop aimed at preparing businesses for the expected influx of cruise passengers following the opening of Aberdeen's new harbour in 2020 has taken place.
The £350m expansion will allow cruise ships to berth alongside the dock, eliminating the need for operators to ferry passengers ashore by small boat.
The expansion into Nigg Bay is expected to create 2,300 jobs by 2026.
The workshop was organised by VisitAberdeenshire.
The organisation believes the cruise market could be lucrative for local businesses.
'Put itineraries together'
Jenni Fraser, VisitAberdeenshire's business development director, said: "The cruise market is very different. They want something a little bit different.
"Although the new harbour does not open until 2020, the cruise executives will start to put their itineraries together next year or the year after.
"These are thousands of people potentially descending on Aberdeen.
"We really want to make sure that once the cruise ship has made it to the harbour that the rest of the area is going to benefit."
The harbour board has described the project as a "major new chapter" in the port's history.