Council and Aberdeen FC bosses met as stadium plans finalised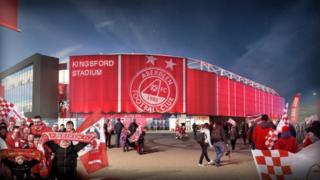 The Aberdeen City Council chief executive met the Aberdeen FC chairman as officials were finalising a major planning application for a new stadium for the club, BBC Scotland has learned.
Angela Scott and the authority's interim head of planning met Stewart Milne and club vice-chairman George Yule on Tuesday.
On Thursday, Aberdeen FC put its Kingsford stadium application on hold.
The council said the meeting was "in line with expectations".
The recommendation of city council planners was due to be published on Tuesday afternoon, ahead of a decision next week, but was delayed.
The club's application has now been deferred.
Legal advice
Aberdeen FC wants more time to discuss the plans for the £50m stadium and training facilities at Kingsford, near Westhill, with planners.
A spokesperson for the council said: "The meeting between the head of planning and sustainable development, the chief executive and club representatives was in line with expectations around a proposed development of the scale and significance of Kingsford.
"Legal advice was taken to ensure the discussions were appropriate to the planning process."
The club has said a new facility is vital to its future. However, objectors called for the club to look elsewhere.