NHS Grampian 'sees 75% of locum spending in north of Scotland'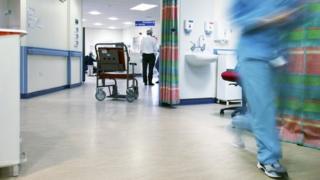 NHS Grampian accounts for 75% of all locum spend in the north of Scotland, the health board has said.
A workforce plan put to the NHS Grampian board says the amount spent on locum doctors over the past two financial years has risen.
It said it accounts for 75% of the locum spending in Grampian, Shetland, Orkney, Highland and Tayside.
NHS Grampian needs to make savings of £30m in 2017-18 and in each of the next three years.
The health board is looking to limit the number of locum doctors.
'Created uncertainty'
The report - which was before the health board on Thursday - also said: "NHS Grampian has a significant number of employees from other European countries.
"The decision that the United Kingdom will leave the EU in March 2019 has created uncertainty over the status of EU workers employed in the UK and this has created a significant risk for some services in NHS Grampian.
"Work will be progressed in NHS Grampian to determine what these risks might be."
The report said NHS Grampian is continuing to undertake recruitment initiatives.
It is set to take part in an international recruitment process in Australia in November, aimed at repatriating nurses and midwives.
Dr Annie Ingram, director of workforce for NHS Grampian, said: "The gaps in the workforce are a particular challenge.
"We are trying to target the locum spend."
'Biggest expenditure'
She added: "Patient safety is the priority."
Members of the Unison union protested about pay awards outside the meeting in Aberdeen.
Martin McKay, secretary for Unison's Grampian branch, said of savings: "The biggest pay roll expenditure is staff. Efficiencies in services mean more work for staff under harder circumstances."