Woman diagnosed with PTSD after taking part in murder bid is jailed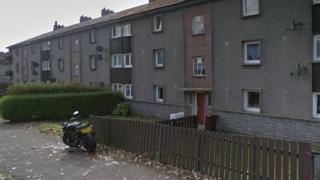 A woman diagnosed with post-traumatic stress disorder after taking part in the attempted murder of a man while he slept has been jailed for six years.
Ashley Duncan, 22, joined two men in repeatedly punching, kicking and stamping on their victim, Jordan Jones.
Mr Jones, 28, suffered "catastrophic" brain injuries and remains in hospital following the attack last May.
Duncan's co-accused, Mathew Donaldson and Lee Hutchison, were jailed for 11 years and eight years respectively.
At the High Court in Edinburgh, judge Lady Scott told Duncan, Donaldson and Hutchison, who are all from Aberdeen: "You fled the scene and in the words of one witness 'left him for dead'.
"You left your victim with catastrophic brain injuries."
Lady Scott said it was very likely Mr Jones, who had previously suffered a head injury, would remain very heavily dependent on care.
'Devastated and bereft'
The judge added: "His family have been left devastated and bereft.
"You were all within a flat and consumed excessive amounts of alcohol and valium."
Jonathan Crowe, counsel for Duncan, said: "Her life simply went off the rails." He said she had been diagnosed with PTSD (post-traumatic stress disorder) and had described what happened in the attempted murder as "horrifying".
He said Duncan had acknowledged the life-changing effects of the attack for the victim. Mr Crowe said the murder bid was "effectively committed in a vacuum of drugs and alcohol and an off-the-rails lifestyle".
Duncan, of Rosemount, Donaldson, of King Street, and Hutchison, of Dyce, all Aberdeen, had denied attempting to murder Mr Jones.
Hutchison and Donaldson launched the attack on Mr Jones after he had fallen asleep on a couch at a house in Auldearn Place in Aberdeen, with Duncan joining in.
Lady Scott said that, prior to the attack, there had been "a background" between Hutchison and Mr Jordan.
Knuckle duster
She said: "If you did not know beforehand, you were told during this attack your victim suffered a previous head injury."
The court heard three weeks before the murder bid, Hutchison punched a man "for reasons unknown" after approaching his car.
The victim fell to the ground and was repeatedly punched and kicked and suffered a broken jaw.
Hutchison also took part in an attack with Donaldson on a man in Gardner Drive, Aberdeen, on 20 February last year.
The pair repeatedly punched the man with a knuckle duster to the head to his severe injury and permanent disfigurement. Hutchison also punched another man with the knuckle duster.
Defence counsel Michael Anderson, for Hutchison, said: "There was at the time of the offences a difficult drug problem which has to a degree been tackled."