Airbus boss flies in Super Puma in bid to demonstrate its safety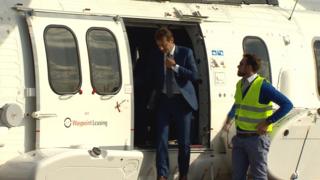 The boss of Airbus has flown into a helicopter exhibition in London in a Super Puma H225 to demonstrate that the aircraft is safe for passenger use.
The helicopters were grounded after a crash in Norway where the rotor blades became detached from the fuselage.
The accident in April last year killed 13 people, including Iain Stewart from Laurencekirk, Aberdeenshire.
The 225 and L2 aircraft have since been cleared to fly but no North Sea operators have reintroduced them.
Airbus said it has a full understanding of the cause of the crash and, after introducing a range of measures, is confident it could not be repeated.
Emerging from the helicopter, Airbus CEO Guillaume Faury made a statement but would not answer questions.
He said: "It takes time to restore trust after these accidents.
"Our responsibility is to explain the safety measures that have been put in place and that's why I'm very happy to be here at Helitech with the 225 to explain, to share and to guide people through the safety measures that have been put in place."
Several changes have been made to prevent a repeat of the crash.
The amount of time before key components have to be replaced has been reduced.
There have been improvements to detection methods for spalling, where metal components become splintered.
And shock detectors have been attached to parts which are being transported by road.
The last measure is needed after it emerged that the main gear box from the helicopter which crashed was involved in a road accident before it was installed.
Survey doubts
Airbus says the investigation into the Norway accident has helped it gain a better understanding of the cause of a crash off Peterhead in 2009 in which 16 people died.
Some parts were never recovered and so the cause was defined as a "catastrophic gearbox failure". But the company now believes the root causes are similar.
Despite being cleared to fly by the Civil Aviation Authority (CAA), the Super Puma has not resumed service in North Sea operations.
A survey of workers, conducted by Airbus, revealed 62% of workers would be unlikely to fly in Super Pumas again.
The shrinking size of the offshore workforce because of the downturn has meant companies have managed without these helicopters.
With confidence in them low, convincing oil workers to get in them again will be a difficult if not impossible task.