Funding in place for Aberdeen FC stadium judicial review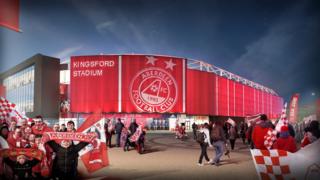 A group opposed to Aberdeen FC's bid to build a new £50m stadium has said it has secured funding for a petition for a judicial review in the event of the plans being approved.
The stadium and training facilities would be at Kingsford, near Westhill.
Aberdeen City Council planners are due to publish their recommendation this week, before councillors make their decision on 11 October.
The club has said the new facility is vital for its future.
The No Kingsford Stadium group said it had secured funds through pledges and donations.