'Significant' vandalism at Tullos primary in Aberdeen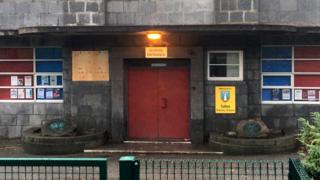 Police have appealed for information after more than 20 windows were smashed by vandals at an Aberdeen school.
A total of 22 windows were damaged at Tullos Primary in the early hours of Saturday.
Several items were also strewn about the playground.
PC Andy McNally said: "Vandalism to a school is completely unacceptable. The cost of repair will be significant and there can be impact upon pupils until such repairs can be made."