Posthumous Freedom of Orkney for Arctic explorer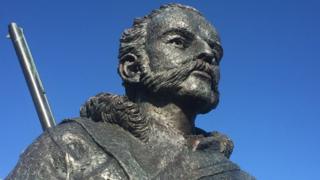 Orkney Islands Council has posthumously bestowed the Freedom of Orkney on the 19th Century Arctic explorer Dr John Rae.
He was born in Orphir in Orkney in 1813, and surveyed huge areas of Arctic coastline with the Hudson Bay Company.
His revelations about the fate of Sir John Franklin's ill-fated expedition to the Northwest Passage were hugely controversial.
But the leader of the council said it was right to honour him.
John Rae left no descendants so the Freedom was accepted on behalf of his wider family by a great great great grand niece.
Ruth Matches, who lives in Orkney, said it was "a great honour, for the family, both in Orkney and in Canada and worldwide".
She said the fact that Rae was being honoured by his homeland made the ceremony "quite emotional".
Andrew Appleby from the John Rae Society agreed that the decision by the council would be appreciated internationally.
"It's important worldwide, because John Rae's profile is getting much larger. The way it should have been when he was alive."
The explorer's reporting of testimony from native Inuit people that Sir John Franklin's men had resorted to cannibalism after becoming icebound earned him the opposition of Franklin's widow Lady Franklin, who called Rae "hairy and disagreeable".
And the novelist Charles Dickens mocked Rae for believing people he described as "savages".
They campaigned to see Franklin recognised as the discoverer of the final link in the long sought Northwest passage.
But it was Rae who mapped the stretch of water now known as Rae Strait.
He made a number of expeditions to the area, initially as a ship's surgeon, and learned hunting and survival skills from local people - who christened him "he who takes long strides".
The Convenor of Orkney Islands Council, Harvey Johnston, told a crowd of about a hundred people that Rae "had walked six thousand miles" and "broke through what none could breach", but had found the pages of history the "hardest place to reach".
Council leader James Stockan read the formal decision of councillors to "posthumously admit and receive the late Dr John Rae as an honorary Freeman of the Orkney Islands area, in recognition of his outstanding achievements as a world renowned explorer".
After the ceremony Mr Stockan told BBC Radio Orkney: "It was only right to honour someone who had done so much, and pioneered so much."