'We proved everybody wrong and we got our boys home'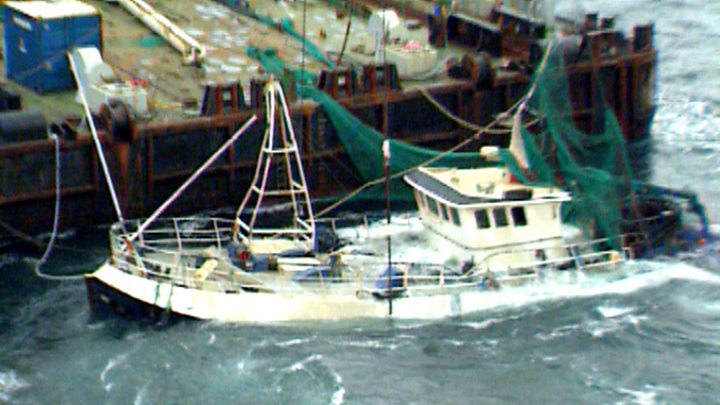 When four crewmen perished on the Peterhead fishing boat Sapphire 20 years ago, relatives began a campaign to have their bodies recovered from inside the sunken trawler.
The 76-tonne boat sank in the North Sea, 12 miles off the Aberdeenshire coast, on 1 October 1997.
The UK government refused to finance the recovery of the bodies, 270ft (90m) below the surface, saying it was policy not to bring back the bodies of those lost at sea.
Shipping minister Glenda Jackson and Prime Minister Tony Blair were criticised for the decision at the time.
The families of the dead men began an appeal to raise hundreds of thousands of pounds to fund the operation.
It took that £500,000 campaign to get the Sapphire, which had been laden with 400 boxes of fish, returned to the surface 10 weeks later.
"We proved everybody wrong and we got our boys home," says Shirley Henderson, whose husband Robert Stephen was one of the four men who died.
Mr Stephen, 25, who had a two-year-old daughter, was the youngest member of the crew. He died alongside Adam Stephen, 29, Bruce Cameron, 32, and 45-year-old Victor Podlesny.
The only survivor of the tragedy was skipper Victor Robertson, who escaped through the wheelhouse window.
'Waiting for news'
Mrs Henderson told BBC Scotland how she heard of the sinking: "We found out, sadly, through a news bulletin. There was a boat lost.
"I was beside myself. I could not believe what was happening.
"It was not long before we got that dreaded knock on the door.
"It was a search and rescue mission. We sat in shock waiting for news of any survivors."
However, it was ultimately the news relatives of four of the crew had dreaded.
'Point to prove'
Mrs Henderson says: "No man should go to his work and not be able to come back to his family. We felt cheated, we felt angry.
"We were told it was an honourable location for a person, a noble death.
"We just wanted them home, to lay them to rest. We started our campaign.
"I think we had a point to prove, we were proving the government wrong. We all had a fire in our belly. We started phoning people, morning to night."
Weeks of fundraising finally paid off when they reached their target.
The massive lifting barge Tak Lift VII was then brought in, but the operation was further hampered by weather delays.
'Just relief'
Mrs Henderson says: "It was a really, really long time. The weather would turn. They did not want the straps to snap and her to be lost again. It was a waiting game.
"We knew the outcome was what we wanted.
"It was tasteful and dignified at the end.
"We weren't sitting patting ourselves on the back, it was just relief."
At the time, then SNP leader Alex Salmond and MP for nearby Banff and Buchan, said: ''When we look back, this is an extraordinary story.
"It is a story of guts, resolution and determination by four families, the like of which I cannot easily remember.''
Capsized rapidly
The dead crew were found near the wheelhouse and in the accommodation area after the wreck was raised and returned to Peterhead.
Marine accident investigators found that a failure to close several hatches on the trawler was partly to blame for the tragedy.
The Marine Accident Investigation Branch (MAIB) established several weather-tight hatches and doors were open at the time the Sapphire capsized rapidly in rough weather.
Mrs Henderson said of what happened in 1997: "I think our hoops were Olympic sized at the time.
"It was just the pure fact that these guys would have done anything for us.
"We were like 'now it's our turn to show you how much we thought of you'. And I think we did not bad."
'Right thing'
Asked what she thought others should do now if placed in the same position, she said: "It's a Catch 22.
"We had to put our lives on hold, our grieving process on hold, we had to put our goodbyes on hold for 10 weeks, we had to be seen publicly showing emotion every day, and it was emotion that nobody should have to share really.
"It (raising money) would probably be a less personal thing now.
"It was so hard, but if they feel 100% they're doing the right thing, go for it. We did."