Meghan Markle: Prince Harry's girlfriend adds sparkle to firm's sunglasses sales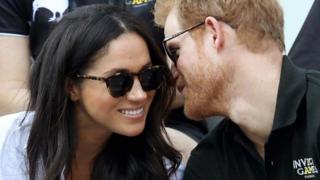 Prince Harry's girlfriend Meghan Markle has helped boost the sales for an Aberdeen man's business after wearing personalised sunglasses at their first public appearance together.
They were seen at the Invictus Games, the international sporting event set up by the prince for injured soldiers.
Ms Markle was wearing personalised frames made by Finlay & Co.
Co-founder David Lochhead said he was amazed how quickly new customers from all over the world showed interest.
After the Suits actress wore the 'MM'-initialled Percy Light Tortoise frames, about £20,000 of the firm's sunglasses were sold on Tuesday.
Mr Lochhead said: "For her to wear them at that moment was just incredible. We are thrilled.
"The website has been really busy - I've never seen anything like it."
'Global attention'
Orders have been coming in from as far afield Australia for the £120 sunglasses, which are made in Italy.
Mr Lochhead, who launched the business with his friend Dane Butler five years ago, is due to open his first store in London's Soho in November.
The University of Strathclyde business graduate came up with the idea to sell eyewear after seeing what he saw as a gap in the market for personalised sunglasses.
He said: "This has brought us a lot of global attention.
"She is clearly a successful actress in her own right, many people have followed her career through watching the TV show Suits.
"And a lot of people want to see Prince Harry happy and they both look really happy together."
Other celebrity customers include actress Sienna Miller.