Poor weather affected Lerwick's cruise ship season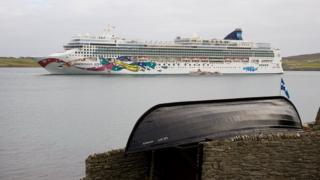 Poor weather has been a factor in reducing the number of visits by cruise ships to Lerwick in Shetland, the port's authority has said.
Changes to the itinerary of some cruises also played a part in causing the cancellation of about 10% of planned calls.
Lerwick Port Authority plans to deepen the approach channel to Mair's Pier so more ships can come alongside.
It said this would reduce the effects of bad weather.
Ships that cannot berth at the pier need to anchor and transfer passengers by tender, an operation that can be affected by poor conditions.
The port authority said advance bookings so far for 2018 would make that season its busiest yet, with 87 ships currently scheduled to arrive between March and October.