New Super Puma helicopter safety checks ordered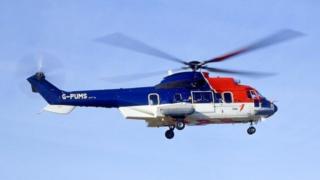 New checks on Super Puma helicopters have been ordered.
The European Aviation Safety Agency (EASA) said a main rotor component was "susceptible to crack development" in an emergency airworthiness directive.
EASA said the condition, if not detected and corrected, could possibly lead to loss of helicopter control.
No North Sea operators are currently using the aircraft to take workers on and offshore. They were grounded following a fatal crash off Norway.
Operator Airbus said: "As part of Airbus Helicopters' commitment to safety, the company is constantly reviewing its fleet and has identified a swashplate, part of the main rotor assembly of the H225, which may develop cracks over time.
"While no cracks have ever been identified on this part in service, we have provided an alert service bulletin to customers highlighting a monitoring and inspection regime to address this."
The 225 aircraft were recently cleared to fly by the Civil Aviation Authority (CAA) after the crash last year, but only if certain extra safeguards were put in place by operators.
The accident in April last year killed 13 people, including Iain Stewart from Laurencekirk, Aberdeenshire.
The Super Puma 225 came down near the island of Turoey, near Bergen, while it was returning from an oil field.
A report in April into the crash said there was no explanation as to why a detection system did not spot signs of damage to the gearbox.