Aberdeen City Council instructed to apologise over wall repairs probe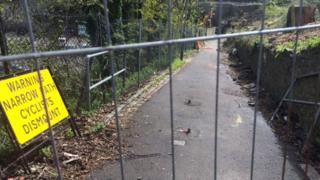 Aberdeen City Council has been instructed to apologise to a former councillor after an investigation into a £200,000 repair order involving land owned by his father.
The Wellington Brae project in Aberdeen was to be funded by cycling charity Sustrans but work was halted as it did not have proper committee approval.
Former councillor Willie Young denied any wrongdoing.
The council's audit committee has been discussing a report on the matter.
At a meeting on Tuesday evening, councillors on the committee instructed the council's chief executive, on behalf of the council, to apologise to Mr Young for "failure to follow policy and procedure" which the committee said "placed him in a vulnerable position".
The council report, published last week, said specific staff could not be held accountable.
The council's Audit, Risk and Scrutiny Committee also agreed to send the report to Audit Scotland.
Mr Young, the city's former finance convener who lost his seat at the local government elections, said he felt "vindicated" by the investigation report last week.
The work involved repairs to a boundary wall beside the cycle path in the Ferryhill area of the city.
Sustrans, a publicly funded charity, awarded just over £21,000 for preliminary work, with the full funding to be paid when the work was completed.
But the project was suspended earlier this year when a political row blew up over who owned the land and how the work had been authorised.
Aberdeen City Council previously admitted the project did not follow the required governance procedures and was not presented for committee approval.
The wall has since been rebuilt.