Unexploded device found near North Sea platform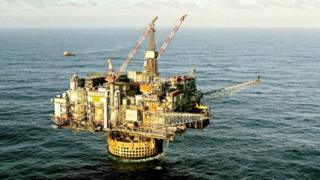 An unexploded military device has been found close to a North Sea oil platform.
It was found on the seabed near the Ninian Central Platform, off Shetland.
The object was discovered last month following a routine inspection of pipelines in the Strathspey field.
An exclusion zone of 75m has been set up around the location of the device, which prevents vessels from getting too close to it, and all diving in the area has been suspended.
Specialists said the device did not pose a hazard unless something came into contact with it.
Still operational
It is thought the object is an anti-submarine war device.
It is about 130m from Ninian Central, which is owned by Canadian Natural Resources (CNR).
According to a risk assessment, the chance of the object self detonating is believed to be "remote".
If it did, then predictions are that any infrastructure within 5m could be damaged.
A spokeswoman for CNR said: "CNR International has informed all relevant authorities and is in discussion with a specialist company, who have classed the device as safe, and are working to formulate a forward plan.
"There is no risk to personnel or the environment."
The company said Ninian Central was still operational and currently has 196 people on board.