Fraserburgh Coastguard station break-in 'put lives at risk'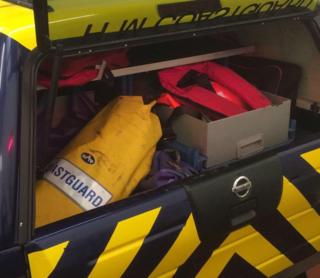 A coastguard station in Aberdeenshire was out of action for six hours after its second break-in within a year.
Emergency services provided by volunteers at HM Coastguard Fraserburgh were disrupted after the discovery on Saturday.
Nothing was taken but the culprit left blood at the scene and equipment will need repairs and cleaning.
The team are now available for callouts again but will need to borrow equipment from other stations.
The break-in was discovered on Saturday afternoon when one of the volunteers noticed the door was open and a secure key box had been smashed off the wall.
While nothing appears to be missing, a window of a vehicle and lockers were forced open.
The station was previously broken into in November last year when computer equipment was taken.
Deputy station officer Darren Scott said: "Vandalising and stealing from a coastguard rescue vehicle, or any emergency service vehicle, is not only irresponsible but also puts lives at risk, especially on a weekend when we are often at our busiest.
"It would appear that whoever has done it this time has injured themselves in the process and left a trail of blood through the station.
"We have reported the incident to the police, who have taken samples, and they seem fairly confident they will be able to find whoever is responsible.
"Understandably, we're just gutted that this has happened again."
"We are 'online', but this malicious act has caused us to take one of our vehicles out of service to be repaired and decontaminated."
The break-in happened between 23:00 on Thursday and 14:30 on Saturday. Anyone with information is urged to contact the police.