Golden bikes in Aberdeen and Stonehaven raise cancer awareness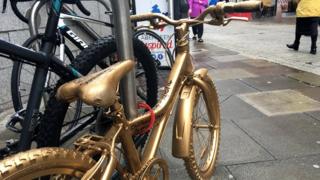 Golden bikes and scooters have been placed around Aberdeen city centre and Stonehaven in a bid to raise awareness of childhood cancer.
The project has been set up by Milene Munro, who lost her seven-year-old son Braeden to cancer in 2014.
The bikes and scooters marked with names of child victims have been chained outside buildings, coinciding with Childhood Cancer awareness month.
Ms Munro, of Aberdeen, said each one had a special significance.
'Makes it real'
She said: "We are trying to raise awareness of childhood cancer by spreading gold bikes about Union Street (in Aberdeen). There are also four in Stonehaven.
"Each one has a child's name that passed. Each one is dedicated to that child.
"I think it makes it more real, people can relate to it more.
"People have been really supportive.
"Sadly, Braeden my son, was diagnosed with a brain tumour. He was clear for about two-and-a-years but was re-diagnosed, there was nothing they could do and he passed away."
She explained: "People need to be aware of the signs of symptoms.
"It's the biggest killer of our children, disease-wise."