Two men aged 18 and 19 detained after boy hit by moped in Aberdeen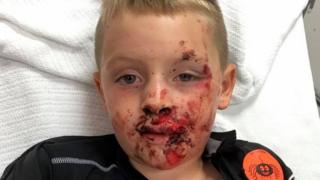 Two men aged 18 and 19 have been detained after an eight-year-old boy was left badly injured when he was struck by a moped in Aberdeen.
LJ Jackson was on his bike when he suffered facial and leg injuries in Sunday's collision on Cornhill Terrace.
He is being treated at Royal Aberdeen Children's Hospital.
LJ's mum Kerry Paterson told the BBC Scotland news website: "He was knocked out, I found two of his teeth on the footpath."
She added: "His leg was trapped in his handlebars, and his gum was sliced open.
"He's really sore, but is being a trooper - he's most devastated about his bike. He'll need a new one."