Peterhead FC to host stranded Malaviya Seven sailors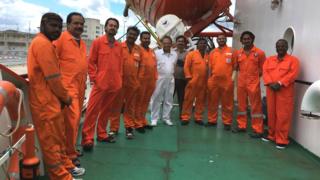 The crew of a supply vessel that has been detained at Aberdeen harbour due to workers not being paid for a year are to be guests of honour at a Peterhead FC cup game this weekend.
The Malaviya Seven was detained in June last year as crew members had not been paid. It was detained again in October.
Aberdeen Sheriff Court ruled the ship should be valued for sale.
The crew will be guests of honour for the Irn Bru Cup game with Annan Athletic at Balmoor Stadium.
Peterhead FC general manager Martin Johnston said: "Having seen the predicament of the Malaviya Seven in the news, and a subsequent conversation with our club chaplain Neil Cameron, it was felt that the very least we could do is provide an opportunity for the seamen to get away from the ship for the day.
"It's a very small gesture in the scope of things, but I'm sure it will be a welcome distraction from their current dilemma.
"Peterhead being a seafaring town will make them most welcome - hopefully they will bring us some luck."
'Winning outcome'
Port chaplain Howard Drysdale said: "The whole crew are delighted to accept the offer of hospitality at Balmoor on Saturday.
"We are looking forward to a great visit and a winning outcome for the team."
The International Transport Workers' Federation (ITF) believes dozens of crew members are now owed a total of more than £600,000.
A broker will prepare a report for a sheriff to consider before a sale can be granted.
A writ was earlier served which prevented the ship from leaving Aberdeen harbour.