New rum distillery operating on Orkney's Lamb Holm island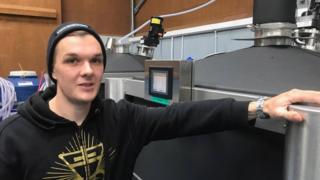 An uninhabited Orkney island is to become one of the smallest rum-producing areas in the world.
The tiny island of Lamb Holm is best known as the location for the Italian Chapel but it is now also home to one of Scotland's few rum distilleries.
J. Gow Rum hopes to be able to produce between 12,000 and 15,000 bottles a year. The first are due to go on sale in the autumn.
A second variety of barrel-aged rum is expected to be ready in a few years.
The man behind the venture is Colin van Schayk, whose family own a wine business - Orkney Wine - also based on Lamb Holm.
The rum project started two years ago and distilling began soon after licences were obtained in March this year.
The spiced rum takes its name from infamous Orkney pirate John Gow.
In 1725, Gow, who was brought up in Stromness, was arrested and eventually tried and hung, following a failed attack on Carrick House on the island of Eday.
Mr Van Schayk said: "I really love rum. It was when my father, who owns the Orkney Wine Company was trying to get me to take over the wine business I thought, I'm not going to take over your business but I'll take half your building and start my own business.
"It's a light golden rum with hints of orange, cinnamon and vanilla. Ultimately we want it to be super smooth so you can drink it without mixer, because if you have to buy a spirit that needs to be mixed - that's just a bit silly - you should be able to drink it straight or drink it with your favourite mixer."
The rum-making process begins when molasses are heated and put in a machine where fermentation takes place. Water, yeast and nutrients are added and the mixture is left for around a week.
Mr van Schayk has purchased specially-made, computer-controlled fermenting machines from Holland. They double up as stills so after fermentation the rum can be left to distil in the same container.