Radio Orkney request leads to Oregon wedding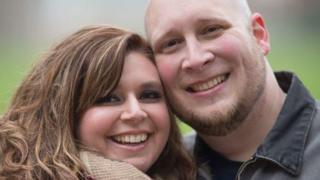 An American couple have been married in Oregon, USA, after the groom proposed to his bride-to-be on BBC Radio Orkney.
Tom Ordeman sent a specially-recorded message from the States to the station's Friday Request show in June 2016.
Judy Tacchini, who was also in America, heard it online. And she said yes.
Tom, who spent time in Orkney in 2013, said he wanted Judy to love the islands as much as he does.
He said he hoped having Orkney involved right at the beginning of their marriage would help that to happen.
As part of the dedication, Tom described how Judy had asked what there was to do in Kirkwall, and how she imagined the two of them walking hand in hand into the town to buy pastries.
And he told her: "It wasn't long before I decided that you were the only woman I'd ever want to walk with, hand-in-hand, into Kirkwall or any other city."
'Let's Get Married'
Then he requested the Proclaimers singing Let's Get Married.
Judy said she had no idea what was going on when Tom asked her to listen to the station.
"But I picked up pretty quickly, I was very surprised. Got very weepy. Yeah. That's pretty much how it was."
Now the couple say they plan to visit the islands together, perhaps next year.
"We're hoping at some point, maybe in 2018, to have the money to do a bit of a tour as a late honeymoon," Tom said.
"I would expect that we would have Orkney high on the list of places that we would hit."