New charitable trust set up to buy historic Orkney kirk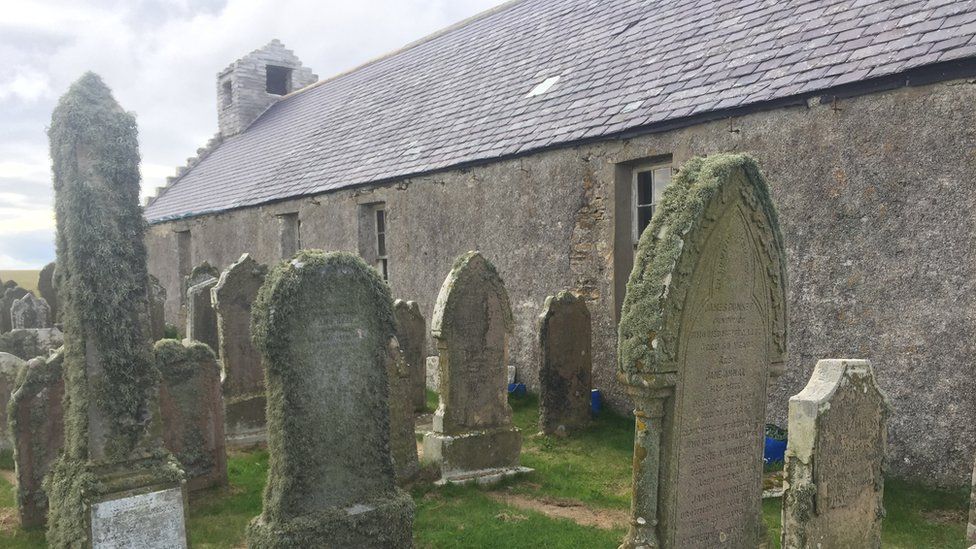 A new charitable trust has been formed to buy Burwick Kirk in South Ronaldsay and run it as a visitor attraction.
The building has not been used for regular worship for the past 20 years.
It was hit by lightning in early 2013 which badly damaged the bell tower, roof and interior.
It was repaired, but the Church of Scotland then put it up for sale, and the St Mary's Preservation Trust has been established to save the building and allow public access.
The kirk is home to a Pictish coronation stone - an ancient slab carved with two footprints.
The stone is believed to have been used in ceremonies to inaugurate new rulers.
Although there is another story which says the stone was used as a boat by Orkney's patron saint St Magnus, who was anxious to cross the Pentland Firth with news of the Battle of Bannockburn.
A new charitable trust is being formed to buy the building and reopen it as a heritage centre, in the hope that will encourage visitors to spend more time in South Ronaldsay.
Local farmer Alexander Annal is part of the trust. He told BBC Radio Orkney: "The objective is to save the building, to keep it maintained and water-tight, and to restore it to its former glory.
"Then we'll use it as a heritage centre, and have exhibits of the modern history of the area. Stories about the people, and the history."
He said it was hoped to make the building useable and open by next year.
But he added: "We need to raise a good amount of funding. Whatever we can raise will be really beneficial to the building."
The building still houses a pulpit, albeit in pieces, and a working harmonium.
The instrument - which still plays - was supplied with solid wooden organ pipes, which contributed nothing to the sound but may have been designed to make it look more impressive.
It is thought Earl Rognvald, a nephew of St Magnus, was buried at the church in 1158 until his remains were reburied in Kirkwall's cathedral when Rognvald was canonised.
The building is still home to some historic tomb stones - including one to a rector who died in 1554, and another to local man James Kinnaird who died in 1684.
The surrounding burial ground will remain in the ownership and care of Orkney Islands Council.
Related Internet Links
The BBC is not responsible for the content of external sites.