Moray runner completes 5,173-mile round Britain route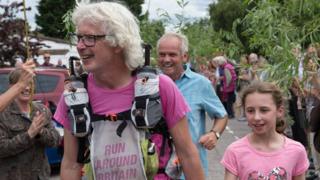 A runner from Moray has completed a 5,173-mile (8,325km) run around Britain's mainland coastline that he began in March last year.
Simon Clark, 58, from Kinloss, undertook the challenge in aid of the Ecologia Youth Trust charity.
So far his run has raised more than £21,000 for the cause.
Mr Clark usually managed about 17 miles per day, depending on the demands of his architectural work which he did from a laptop.
He returned to Kinloss on 5 July - the date of his 58th birthday.
Mr Clark is to give details of his run, the people who offered him shelter and others he met in two public talks he is to give in the Findhorn Foundation's community centre later on Friday and in Kinloss Church on Saturday evening.