Banff Harbour remains closed after pier collapse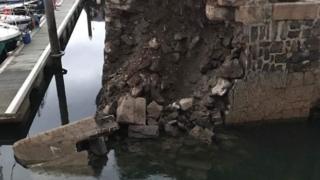 Banff Harbour remains closed following a partial collapse of one of its piers.
The structural collapse took place at about 22:00 on Friday. The port is mainly used by leisure craft and has berths for 76 vessels.
Aberdeenshire Council, which operates the harbour, confirmed that it had been monitoring a crack on the pier.
It also said a dive inspection was due to be carried out in the "next week or so" and said it would consider what action to take after a full inspection.
Philip McKay, the council's head of roads and landscape services said: "The end of one of the internal piers at Banff Harbour collapsed on Friday night.
"I immediately authorised a Notice to Mariners that closed the harbour until we could get a proper look at it."
Local people said a crack had been visible in the wall for the past month.
It is not thought any of the boats in the harbour were damaged.