Trawler crew 'fortunate one awoke' and found fire in Peterhead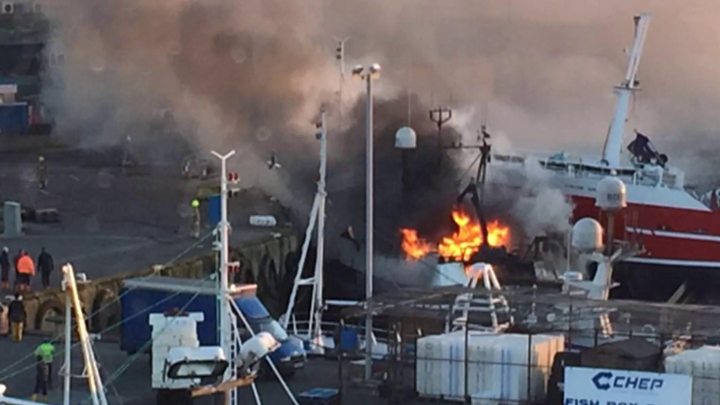 The crew of a trawler was lucky that one of them woke up and raised the alarm about a fire onboard in Peterhead harbour before it took hold, a report has said.
The Ardent II was destroyed by the blaze in August last year.
It had no smoke alarm in the crew quarters. One of the three crew raised the alarm and all of them escaped.
The Marine Accident Investigation Branch (MAIB) urged regular electrical equipment checks for the industry.
More than 30 firefighters tackled the blaze for several hours.
The three Filipino crew lived and worked on the boat.
The fire, which broke out at about 05:00, is thought to have involved a multi-socket adapter.
'Safe haven'
The MAIB report said the crew might have been able to restrict the spread of fire, or even extinguish it.
It stated: "It was fortunate that one of the crew awoke and discovered the fire shortly after it had started.
"In the absence of a smoke detector in the crew mess room, this alerted the crew to the fire and triggered them to evacuate the vessel without delay.
"The fire quickly spread throughout the vessel.
"By using available portable fire extinguishers, and closing doors and other openings on discovery of the fire, the crew might have been able to restrict its spread, or even extinguish it, before they evacuated onto the quay."
It added: "Such actions might then have enabled the fire service to start tackling the fire at an earlier stage in its development and so limit the resulting damage.
"However, the fact that the quay offered the crew a safe haven is likely to have influenced their decision to evacuate the vessel immediately, rather than to attempt to contain and extinguish the fire."