Enthusiasts say yole be welcome to sail in our boats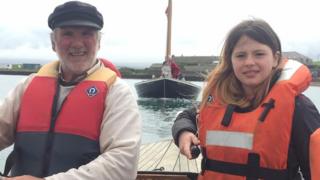 A scheme in Orkney is encouraging primary school children to sail a traditional yole.
Until the 1960's the craft were widely used in many isles communities to transport people, goods and even livestock.
A dedicated group have been campaigning to preserve and promote the boats.
Now they are offering pupils from Stromness Primary School the chance to sail the boats, hoping to encourage them to keep the use of yoles alive.
Head teacher Neil McIntosh told BBC Radio Orkney it was to give pupils an experience of sailing.
"We're surrounded by water, here in Stromness, and it's a great opportunity for them to find out a little bit more."
Caroline Butterfield - who's just bought "Helga", one of the yoles being used by the pupils - said the boats are built with a wide beam, to give them more load carrying capacity.
She said they would have been used to carry "anything and everything".
"I can imagine even putting some sheep on board", she said.
Children who were out for the afternoon on the yoles said they loved the experience.
Menna, Zoe, Ruben and Martha said it was good to get the chance to try something out. And at least once said they'd consider going back for the Yole Association's regular Thursday night sail.
Len Wilson from the Orkney Yole Association said: "The yole is Orkney's indigenous boat.
"It was so important to families in the past. In the isles every family would have at least one yole, and maybe more than one.
"We'd like to see that continue ... and so we need youngsters to be involved."