Shetland beach clean-up grenade detonated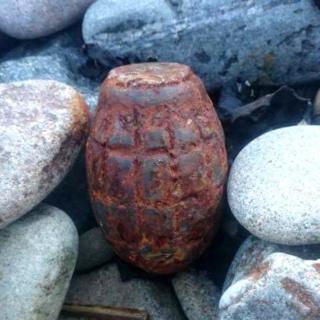 A rusty grenade discovered by children during a beach clean-up in Shetland has been detonated by bomb disposal experts.
Four youngsters from Lerwick Amateur Swimming Club (LASC) were removing litter from Seafield Beach on Monday when they made the find.
A Royal Navy bomb disposal team arrived on Wednesday and detonated the device.
The beach, near Lerwick, had been cordoned off by coastguards but has now reopened.
Kathleen Anderson, whose daughter Rebecca was with the group that found the grenade, said: "The girls were taking part in a sponsored beach clean-up when one of them found it.
'Quite excited'
"She had an idea what it might be and they knew not to touch it.
"They were quite excited and chatted about it as children do. It's not exactly what you would expect to find during a beach clean-up."
The other girls, aged about 11, were Kayla Shearer, Ruby Malcolmson and Kirsty Tomlinson.
LASC posted a picture of the find on its Facebook page with the message: "An unusual find for Kayla, Kirsty, Ruby and Rebecca at our Voar Redd Up!
"Well done lasses for spotting it but not disturbing it!! Let's hope no other LASC outings end up with the police, coastguard and bomb disposal squad involved."
Da Voar Redd Up is claimed to be the UK's most successful community litter pick, with a fifth of Shetland's population volunteering their time annually.