Seal protection area at Ythan designated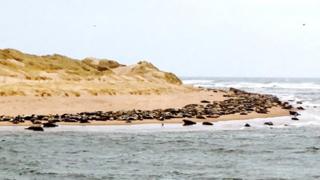 A special protection area has been designated for seals at the mouth of the Ythan Estuary in Aberdeenshire.
The move - approved by Holyrood's environment committee - makes it an offence to harass the mammals on the north bank of the river.
It offers the seals protection from intentional or reckless harassment when they are out of the water.
The site, at Newburgh, is a popular spot for the mammals which can often be seen in their hundreds.
The protection will come into force on 4 May.
It does not extend to when the seals are in the water.
Environment committee convener Graeme Dey MSP said: "The committee was pleased to approve changes to Scotland's seal protection legislation.
"We hope this will help to stop seal harassment in the Ythan Estuary, where seals come ashore to rest, breed, have pups or moult."
The site is a popular tourist spot for seal watching.