Discovery of rusty sword-like object in Orkney investigated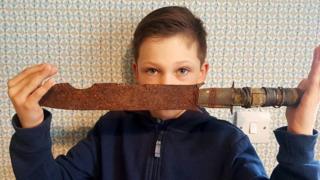 The discovery of a rusty sword-like object by a schoolboy in Orkney is being investigated by experts.
Eight-year-old Findlay Watters found the half-metre-long blade near an earth mound beside a Kirkwall campsite.
It is not yet know how old the object could be.
Findlay's mother Helen Sutherland has contacted Orkney Museum for help. One local historian said the item looked African in origin.
Christopher Gee said it could possibly be a Ngbandi short sword which might be over 100 years old.