Structure fears at art deco Bon Accord Baths in Aberdeen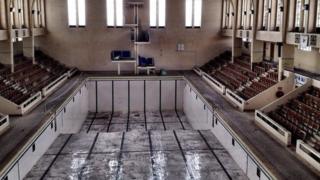 Structural surveys are being carried out at Aberdeen's historic art deco design Bon Accord Baths amid fears the building has a serious problem known as concrete cancer.
The swimming pool on Justice Mill Lane closed in 2008 because of local authority budget cuts.
The council and Bon Accord Heritage - which is working on proposals to reopen the pool - have contracted engineers.
Concrete cancer is where reinforcing steel within concrete begins to rust.
This causes the concrete around it to disintegrate.
It has been estimated millions of pounds would be needed to refurbish the building.