Ceremony marks rebuilding of Ballater Station after fire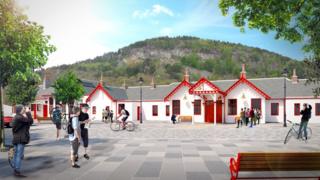 A ceremony has been held to mark the start of work to rebuild a historic railway station in Royal Deeside which was destroyed by fire.
The Old Royal Station in Ballater was ravaged by the blaze in May 2015.
The old station had been the final stopping point for members of the Royal Family heading to Balmoral.
A visitor information centre and a restaurant will feature in the new building along with a library and an enhanced exhibition space.
The work is expected to be completed in December.