Coldest night of year in UK recorded in Braemar at -10.1C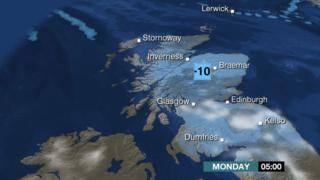 The UK's coldest night of the year so far has been recorded in Braemar in Aberdeenshire.
The -10.1C (13.8F) temperature was in stark contrast to the 10.2C (50.4F) in the Isles of Scilly.
Met Office spokeswoman Emma Sharples said Braemar was a "well-known cold spot" due to its valley location. She added: "So you tend to get cold air drained down into the valley."
The coldest night in January 2016 was -12.4C (9.7F) in Kinbrace.