Aberdeen man made Twitter threats against Queen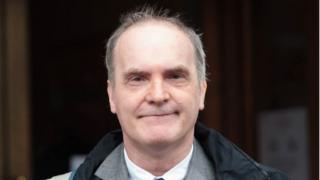 A man has been found guilty of posting abusive and threatening messages about The Queen on Twitter.
Alastair Dow's home in Aberdeen was raided by police after intelligence officers saw the posts made during the Commonwealth Games.
His computer was seized and he went on trial at Aberdeen Sheriff Court.
Sheriff Morag McLaughlin told him she had assessed the tweets as offensive and abusive and found him guilty of the offence.
Det Sgt Martyn Thomson had told the court officers obtained a warrant to search Dow's flat.
He said: "Police Scotland had received information to the effect that Mr Dow had posted a threatening tweet against the Queen."
One tweet was said to have read: "It's not a little rest I need but to see your Queen's brains blown out and her body splattered over the ground."
Dow insisted that there was no intended threat behind the posts and insisted that they were just rhetoric and statements made on the spur of the moment.
Representing himself in court, he argued that the case was a bit of a storm in a teacup arguing that it was "very embarrassing" for the police to have made such a fool of themselves.
Sentence was deferred for reports until next month.