Storm damage repairs award of £2m for Aberdeenshire Council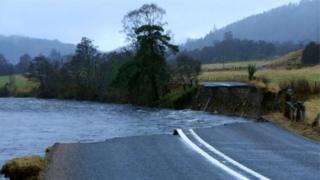 Aberdeenshire Council is to receive an extra £2m to help meet the cost of repairs carried out as a result of devastating storms a year ago.
The funding comes from the Bellwin Scheme, which gives special financial assistance to councils facing extra costs due to disasters or emergencies.
Finance Secretary Derek Mackay said: "There's no doubt that Aberdeenshire was among the areas hit the hardest."
Aberdeenshire Council said it would be a "big help".
Ballater was one of the communities worst hit.