Plans to merge Aberdeenshire Council buildings in Aberdeen and Inverurie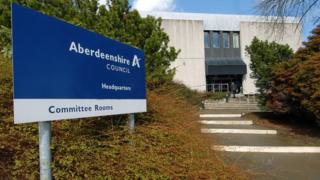 Plans to merge two of Aberdeenshire Council's main offices are to go before councillors next week.
It is being recommended that the Woodhill House headquarters in Aberdeen and Gordon House in Inverurie are relocated to a brand new headquarters at Harlaw Park in Inverurie.
The aim is smaller, more flexible and cheaper offices.
Aberdeenshire is the only local authority authority in Scotland to have its headquarters outside its boundary.
Councillors will be told that maintaining the existing offices in Aberdeen and Inverurie would require major investment, and would leave the council with more office space than is needed.