Trio honoured for Macduff sinking car rescue bravery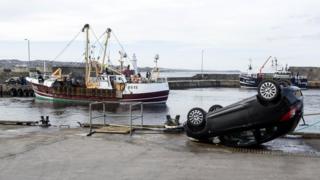 Three men who rescued a woman when a car plunged into Macduff harbour have been honoured for their bravery.
Retained firefighter Kevin Smith and fishermen Rustam Psiancin and Hisona Gilbert pulled the woman from the sinking car in October 2015.
She was airlifted to hospital in a critical condition but made a full recovery.
The trio have been awarded honours by the Royal Humane Society. Police Scotland praised their actions.
'Good team'
the men were honoured after off duty firefighter Kevin Smith went into the water, prised open the car door and pulled the woman to safety.
Fishermen Rustam Psiancin, from Lithuania and Hisona Gilbert, from the Philippines, also dived in and threw a line around the sinking car, helping to secure it to the harbour wall.
Mr Smith said: "It's been called an act of bravery, but I find that quite embarrassing because I just did my job.
"We made a good team on the day and being water rescue trained was definitely a bonus.
"I am just delighted we were able to save the lady's life."
Insp Neil Campbell, of Police Scotland, said: "These men put their own safety to one side that day and did not give up until the woman was rescued.
"Their quick-thinking actions undoubtedly saved a life and as such are fully deserving of such a prestigious award."
The car was later lifted out of the water.