Fisherman rescued after creel boat runs aground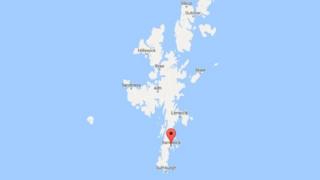 A fisherman has been rescued off Shetland after his creel boat ran aground at Sandwick.
The Cornucopia hit hit rocks at about 12:15 on Saturday after becoming entangled in fishing gear.
A nearby vessel called the Osprey was able to tow the 10m (33ft) boat back off the rocks and into deeper water.
The Lerwick Lifeboat later towed the vessel to safety.