Brian McKandie murder: Brother 'appeals to consciences'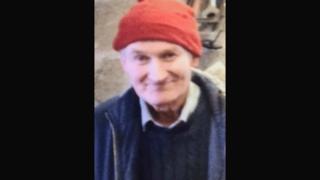 The brother of a man who was found beaten to death at his home in Aberdeenshire has made a new appeal for help to trace his killer.
Brian McKandie, 67, was found dead at his home at Fairview Cottages, Rothienorman, on Saturday 12 March.
Police said he had been beaten with a heavy weapon and believe he may have known his killer.
His brother William McKandie urged anyone who may have information to "appeal to their conscience".
He said: "Christmas is traditionally a time people spend with their family and close friends and it is exceptionally hard for us knowing that we will never see Brian again.
"It is still incredibly difficult without him particularly at this time of year and especially given the circumstances in which he died."
'Quiet gentleman'
He added: "Brian was a quiet gentleman, he was very hardworking and was well known in the area for his livelihood as a mechanic.
"He didn't have a lot of close friends but his business was well known in the local area and wider afield and he had a great many acquaintances.
"Somebody must know what happened to Brian and we would directly appeal to their conscience to call the police. We have lost a much-loved member of our family and just want to know why."
Det Ch Insp Iain Smith said: "Our thoughts are with the McKandie family and we understand that this time of the year must be particularly difficult for them. This type of crime is very unusual in the north east and has obviously been extremely distressing for Brian's family as well as the wider community.
"Inquiries are very much ongoing and we are still urging anyone who knew Brian or may have a piece of information, no matter how small, which could help us to come forward. Let us decide if it is of relevance to the inquiry.
"Brian's family naturally want to know what has happened and just want answers so they can come to terms with what has happened. Family liaison officers continue to provide support to the family and for their sake I would ask again for anyone with information about this incident to come forward."
Crimestoppers has been offered a £10,000 reward for information that leads to conviction.
In September it was revealed that DNA evidence had been found at Mr McKandie's home.