Model for new Aberdeen Remembrance Hall art unveiled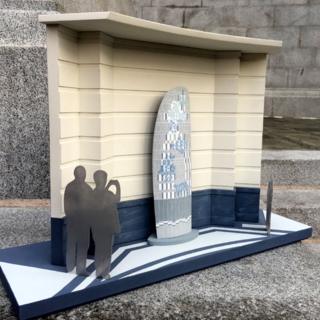 A model of new artwork commissioned for Aberdeen's Remembrance Hall has been unveiled.
The steel, granite and marble piece - called Forget Them Not - will resemble a Spitfire wing, and is aimed at representing conflict on land, in the air and at sea.
It will be erected in the revamped hall, which is set to reopen in November next year.
Artist Gordon Burnett was chosen from submissions from around the world.
It will also feature jewel-like forget-me-not flowers.
Fraserburgh-born Mr Burnett said the piece was intended to encourage people to "reflect and contemplate".
Council leader Jenny Laing said: "This design is a fitting contribution to what is one of the city's most important buildings."