Coastguards in Kirkwall honoured after sea rescue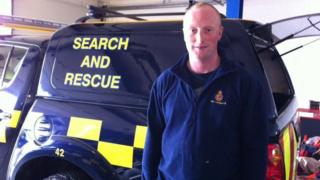 Coastguards in Kirkwall have been been honoured with a prestigious award for a rescue operation.
The Maritime and Coastguard Agency (MCA) recognised the Orkney team for the operation which saved the lives of two females in Inganess Bay.
Team member Allan Corse swam out 70m carrying a line which was then pulled in by his colleagues on shore.
The whole team was presented with the Rescue Shield by Charles Ball, the MCA's head of coastal operations.
The two rescued females were described as being minutes from death when rescued.
Mr Corse was checked out in hospital after inhaling sea water during the rescue but suffered no ill-effects.