New sexual health clinic for gay and bisexual men launches in Aberdeen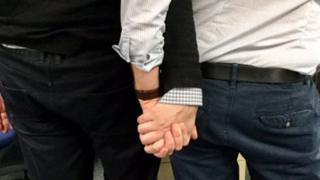 A new sexual health drop-in clinic for gay and bisexual men has been launched in Aberdeen.
It follows a rise in sexually-transmitted infections in the region.
The Exchange Street clinic, which will provide sexual health information, testing, and free condoms, will be open from 17:30 to 19:30 every Thursday.
The opening coincides with World AIDS Day, which will be highlighted across the NHS Grampian area with several buildings being lit up red.
Dr Ambreen Butt, sexual health consultant with NHS Grampian, said: "We are seeing more infections, definitely in gay and bisexual men and other men who have sex with men.
"There are a lot of STIs (sexually transmitted infections) out there.
"Many people wait until symptoms of infection appear before considering going for a test.
"This can sometimes be weeks, months or even years after the episode of risk.
"If you have been at risk, it's important to consider early testing to avoid long-term complications as effective treatment is readily available."
Early treatment
Dr Butt added: "Condoms are a good way to protect yourself from most serious sexually-transmitted infections including HIV."
Colin McKay, a specialist worker at the clinic, told BBC Scotland: "There is still a lot of stigma around men having sex with men up here, we are in the north east of Scotland, we're not London or Manchester.
"The sooner they get tested, if it comes back positive, the sooner they can get into treatment which is better for everybody."