North Sea helicopter in emergency landing at Sumburgh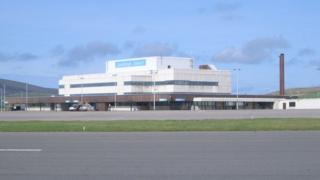 A helicopter taking workers off a North Sea platform was forced to make an emergency landing in Shetland after a warning light came on.
The Sikorsky S-92, with 16 people on board, was redirected from Aberdeen to Sumburgh after the warning was triggered in the cockpit.
It had been involved in the evacuation of 38 non-essential staff from BP's Magnus platform after a power-related incident.
The helicopter landed safely at 21:30.
About 120 essential staff are still on the Magnus installation, 100 miles north-east of Shetland.