Schoolboys meet Barcelona heroes at Prestwick Airport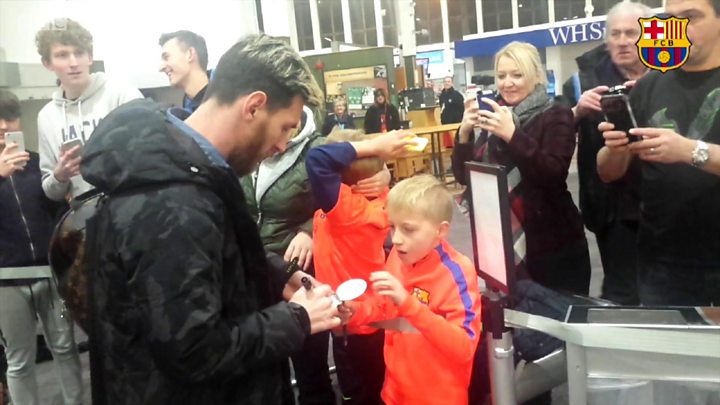 Two Ayrshire schoolboys have found internet fame after meeting their football heroes at Prestwick airport.
Barcelona FC filmed the delighted nine-year-olds meeting Lionel Messi, Neymar and Luis Suarez after the team's win over Celtic on Wednesday.
Leo Conway and Calum Adamson, both from Saltcoats, were taken to the airport by their mums.
Wearing team tracksuits, the boys jump up and down with excitement as they secure autographs from the Barca stars.
In an interview with BBC Scotland, new internet stars Calum and Leo said meeting the players was the best experience of their lives.
Calum said: "I think that's the only time I'll ever see Messi, but if I see him again I will be the exact same."
Leo added: "My school friends thought it was amazing, but some of them, I don't know if they actually believe me.
"We were shaking, we were so excited."
The boys have been friends for years, and play together for a local football team.
Next spring, their team - Tass Thistle - is going to participate in a tournament in Barcelona.
The boys hope to visit Barcelona's Camp Nou stadium during their visit.
"If we win the tournament there, that will be even better," said Leo.
Calum added: "Yeah, if we go to the Nou Camp and then we win, it will be amazing, the best."
The video has been viewed more than five million times after Barcelona posted the footage on their Facebook page.
Leo Conway's mum Louise, 37, said she was delighted that the boys had met the players.
"The team were fab with them. The boys were so hyper! Now they can't believe the response the video has had.
"Leo was so excited to take his book of autographs and pictures in to school."