New images of Aberdeen FC stadium hopes for Kingsford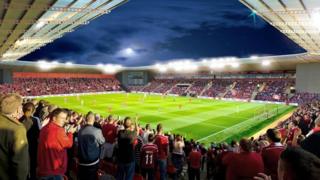 New images of how Aberdeen FC hopes a new stadium on the outskirts of the city will look have been released.
The stadium and training facilities would be built at Kingsford, close to the Aberdeen bypass, near Westhill.
The Yes to Kingsford Stadium group believes the 20,000-seat venue would be a vital step forward, however there has been opposition.
An exhibition will be held at Pittodrie on Thursday from 15:00 to 21:00, at the AAM Suite in the Richard Donald Stand.
George Yule, executive vice chairman of AFC, said: "The glories of our past and solid footing of our present cannot sustain the club in the future and that is why we embarked on a new journey some four years ago - a journey that will take us to long-term success and sustainability, on and off the pitch.
"We will be providing a stadium that supports our ambition and meets the expectations of our fans alongside outstanding community sports facilities."